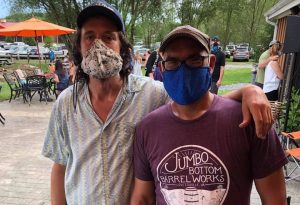 Fiddlin' Dave & John Bestwick
iCal
Join us this Saturday at 7:30pm for live music by Fiddlin' Dave and John Bestwick. Join Fiddlin' Dave from Furnace Mountain and the Woodshedders and John Bestwick from the Short Hill Mountain Boys for some good music and fine times.
Furnace Mountain: Furnace Mountain Band, named for a mountain near where all the members grew up, consists of some of the most innovative and gifted musicians in Virginia. Furnace Mountain Band has performed throughout the world, from the Yangtze River in China to the banks of the Shenandoah River.
The Short Hill Mountain Boys play their own blend of bluegrass, old-time, cajun, classic country, and folk music with a rare passion. Their harmony vocals, fiddling, and guitar picking are tight and practiced like the suit-and-cowboy-hat bluegrass acts, but imbued with the authenticity, spontaneity, and infectious good time of old time mountain music, in which they are well steeped.