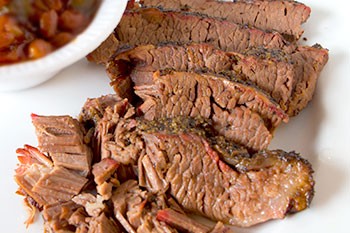 Brisket $11.99
Our mouthwatering brisket is smoked all night and rubbed with our mixture of spices that bring out the natural flavors of beef. We serve the brisket tender with a nice bark and a beautiful thick hot pink smoke ring.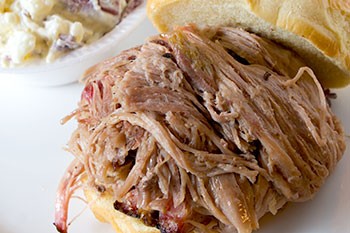 Pulled Pork $9.99
​​Our pork is terrific with our unique blend of sweet and spicy rub. You will enjoy the flavor and tenderness with each bite.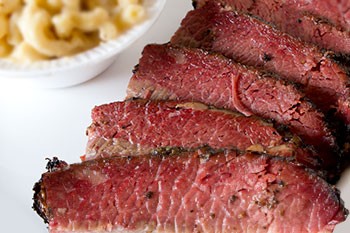 Pastrami $12.99
Whole beef brisket cured and seasoned with our pastrami rub and smoked all night along side our briskets. This is a unique item that can't be found on BBQ menus for miles around. A lot of customers say it's a true reminder of genuine NY style pastrami.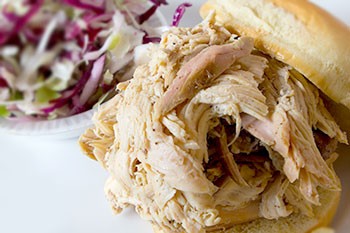 Pulled Chicken $9.99
Our chicken is smoked whole over a blend of hickory and cherry. The hickory is a perfect match for chicken, and cherry gives them a beautiful golden color. This yard bird is unmatched, especially when it's topped with our Alabama White sauce.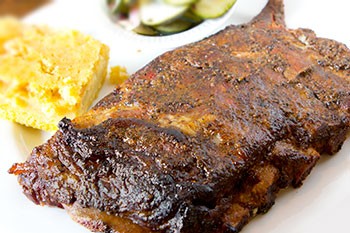 Spare Ribs $16.99 1/2 Rack – $30.99 Full Rack
Monk's Spare Ribs are a big ol' slab of dry rubbed perfection. Our rub is a blend of sweet and spicy which is a perfect match for this style of rib. We prefer to eat them dry, but if you must, slather them in sauce and enjoy!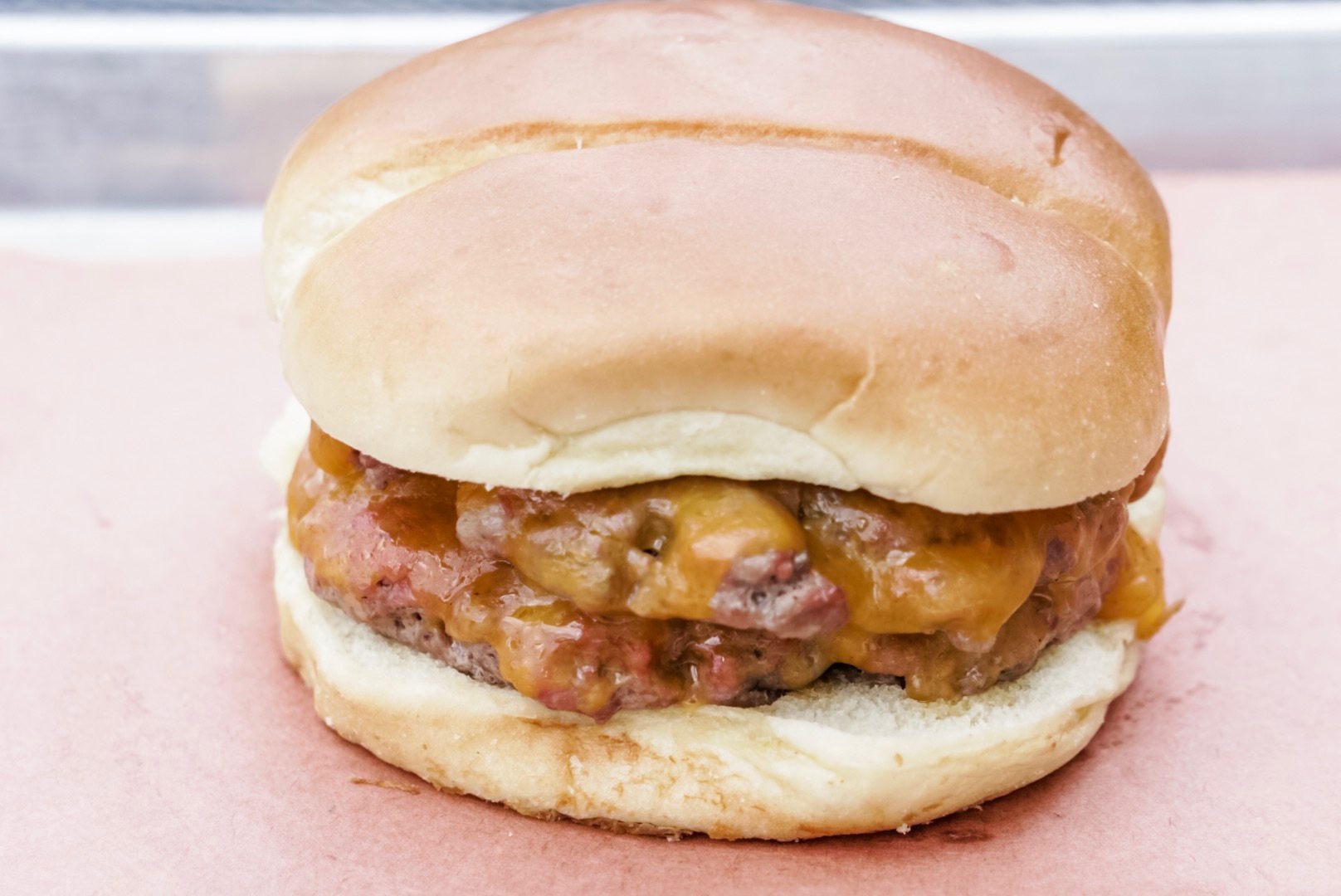 Cheeseburger $11.99
Monk's Double Brisket Cheeseburger is made with 100%  brisket, seasoned with our gunpowder rub and smoked to perfection!  Check out our sauce station to customize your cheeseburger!  *Includes 1 side.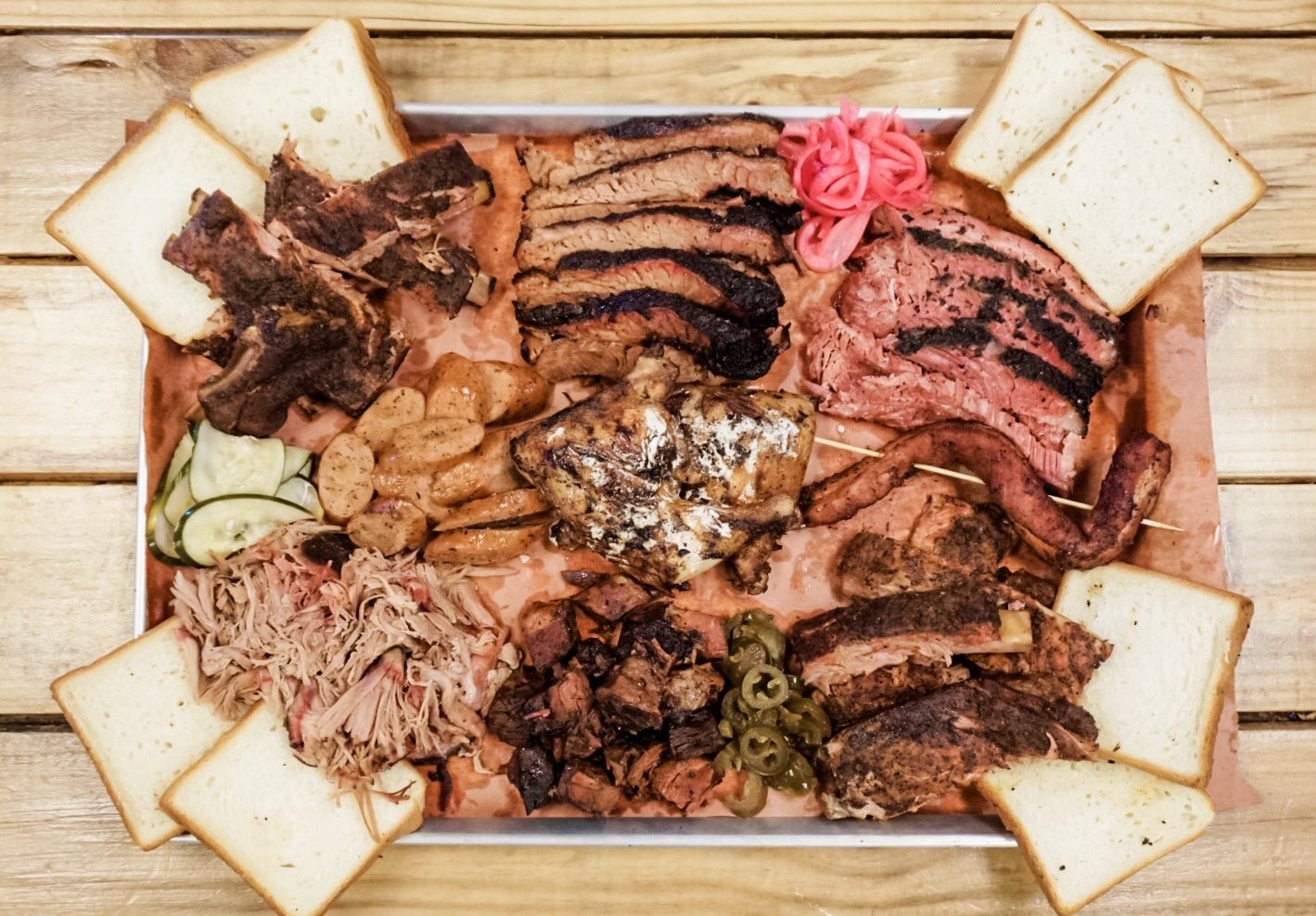 The Boss Hog $98.99
Monk's Boss Hog is the ultimate meat sampler platter.  You'll enjoy: 1/2 lb Pulled Pork, 1/2 lb Brisket, 1/2 lb Pastrami, 1/2 lb Burnt Ends, 2 Chicken Quarters, 1 Texas Hot Link, 1 Full Rack of Ribs, 1 Bacon on a Stick & 8 slices of Texas Toast.  Enjoy!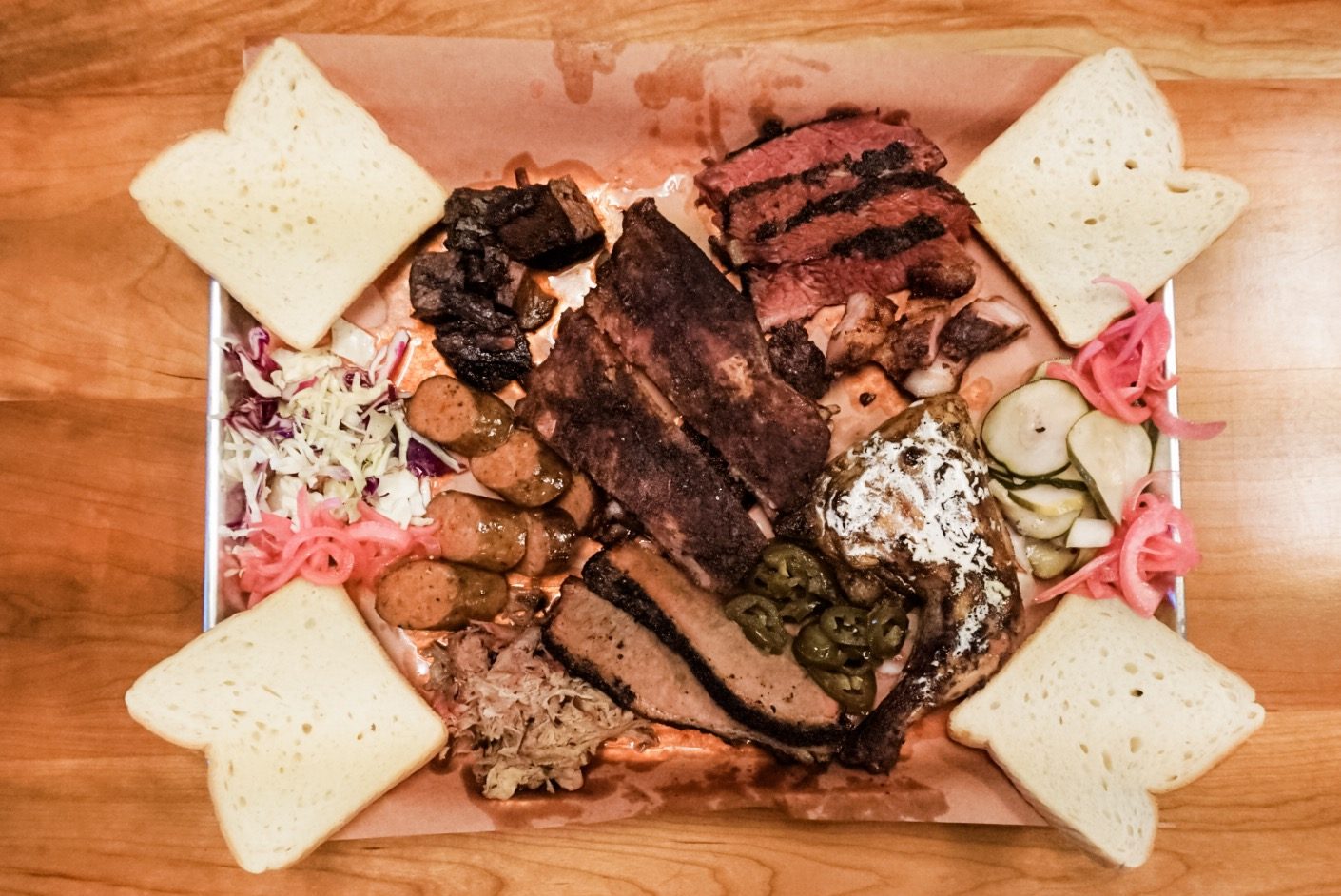 The Piglet $49.99
The Monk's Boss Hog a little intimidating? Then The Piglet is perfect for you!  You'll enjoy: 1/4 lb Pulled Pork, 1/4 lb Brisket, 1/4 lb Pastrami, 1/4 lb Burnt Ends, 1 Chicken Quarter, 1 Texas Hot Link, 1 Bacon on a Stick & 4 slices of Texas Toast.  Enjoy!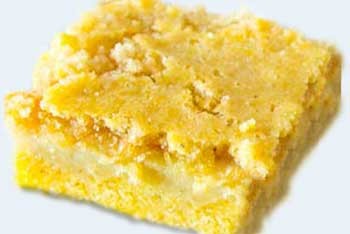 Cornbread – Custard Filled $0.99
Yep, you read that right! Sweet and filled with custard.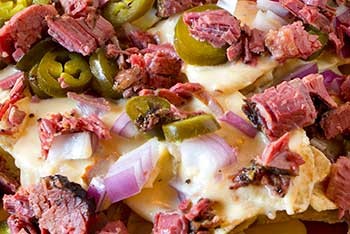 Memphis Nachos $7.99 – With Pork or Chicken $11.99 / With Brisket or Pastrami $12.99
Shown with the pastrami, this pile of scrumptious ingredients includes smoked Cheddar, Jalapenos, Onion, and Chips.
Texas Hot Link $9.99
Ground and stuffed in house, this sausage is spicy and satisfying. Includes 1 side and your choice of bun or cornbread.
Ham and Cheddar Link $9.99
Cured, ground, and stuffed in house, this sausage is a classic combination of ham and cheddar at its finest. Includes 1 side and your choice of bun or cornbread.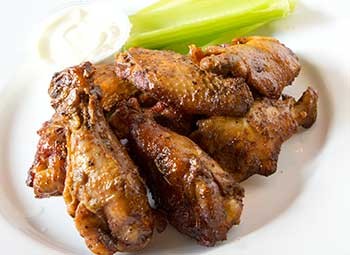 Smoked Wings $8.99
Pickle Brined overnight and slow smoked. Eat them with blue cheese or ranch if you must, but the Alabama White sauce is a perfect match.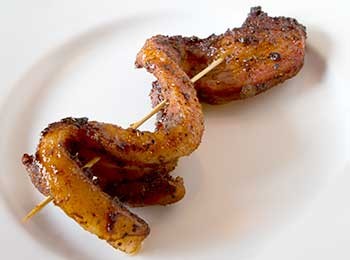 Bacon on a Stick $5.99
A generous slab of pork belly, house cured, smoked, and on a stick.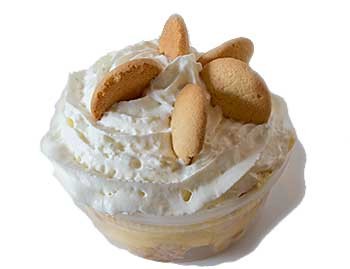 Banana Pudding $4.99
A genuine southern favorite. A perfect finish to any of our meals.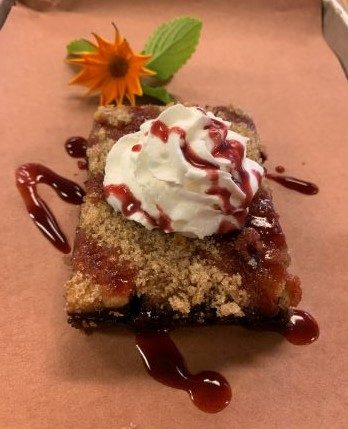 Seasonal Cobbler $4.99
A delicious Blackberry Cobbler topped with Whipped Cream; the perfect way to complete a meal.
​​Potato Salad $3.49
Monk's potato salad is perfect on a hot summer day. Hearty, cool, and refreshing, it's the perfect compliment to a rack of ribs.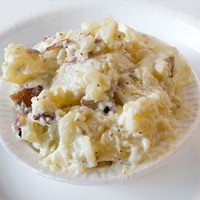 ​​​​​​​Vinegar Slaw – $1.99
Our slaw is shredded fresh every morning so it's nice and crispy. The base for our slaw sauce is vinegar. The result is a somewhat sweet slaw, with a slight tang from the vinegar, and is noticeably crisp and fresh.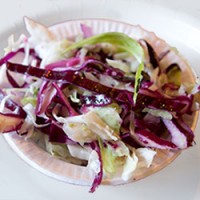 Monk's Beans – $3.49
​The beans are nice and sweet, like a baked bean, but kicked up with smoked rib tips that we've trimmed from our spare ribs. The spice from the rib tips is a nice compliment to the sweetness of the beans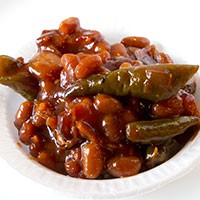 Smoked Gouda Mac & Cheese – $3.49
This mac & cheese is made with smoked gouda, resulting in a creamy texture and a slight smokiness.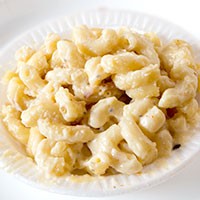 Dill Pickles – $1.99
Homemade, crisp cucumbers and onions brined with dill, garlic and pickling spice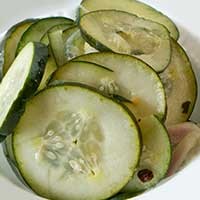 Collard Greens – $3.49
Loaded with pork, vinegar and spice, we dare you to find something more Southern!
Smashed Potatos – $3.49
Rustic, roast garlic and red bliss potatoes.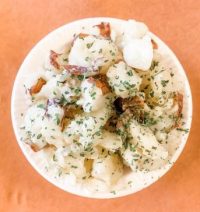 Dirty Rice – $3.49
Spicy sausage, smoked tomato, onion and green pepper in our perfectly cooked rice.