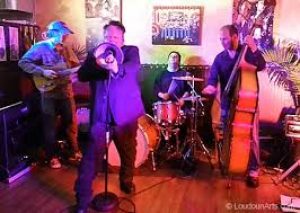 Jumpin' Jupiter
iCal
Jumpin' Jupiter, long hailed by many as one of Virginia's premiere rockin' and rollin' rockabilly outfits, landed in the Falls Church area sometime in the summer of '92. Since then, they have played from N.Y.C. to North Carolina, unleashing some of the most powerful and energetic performances ever seen on the East Coast!
This four-piece outfit has pulled up rock + roll by its roots and propelled it far into orbit with fuel to spare! Mike Bolton (Pensacola, FL) on upright bass and Doug Hoekstra (San Antonio, TX) on drums lay down a solid rhythm that'll make any average human get to slammin', swingin', or just fhufflin' around the room. Guitarist Patrick Cavanaugh flies his twangin' Telecaster in and out and all around that crazy beat with the force of a runaway locomotive. Born and raised in the Washington, D.C. area, Patrick has played along-side such local favorites as Billy Hancock, Johnny Seaton and the legendary Danny Gatton. The band is fronted by Jay Jenc (Washington, D.C.) who delivers some of the most sincere yet frantically kinetic vocals ever witnessed.
Whether playing at a backyard bar-b-que or with some national act in a great big fancy club, these stripped-down, psychobilly cowpunks have found a home here on Earth. A home in the hearts of all of those folks out there who haven't forgotten how much fun good ol' American music is, even when you're not paying attention!